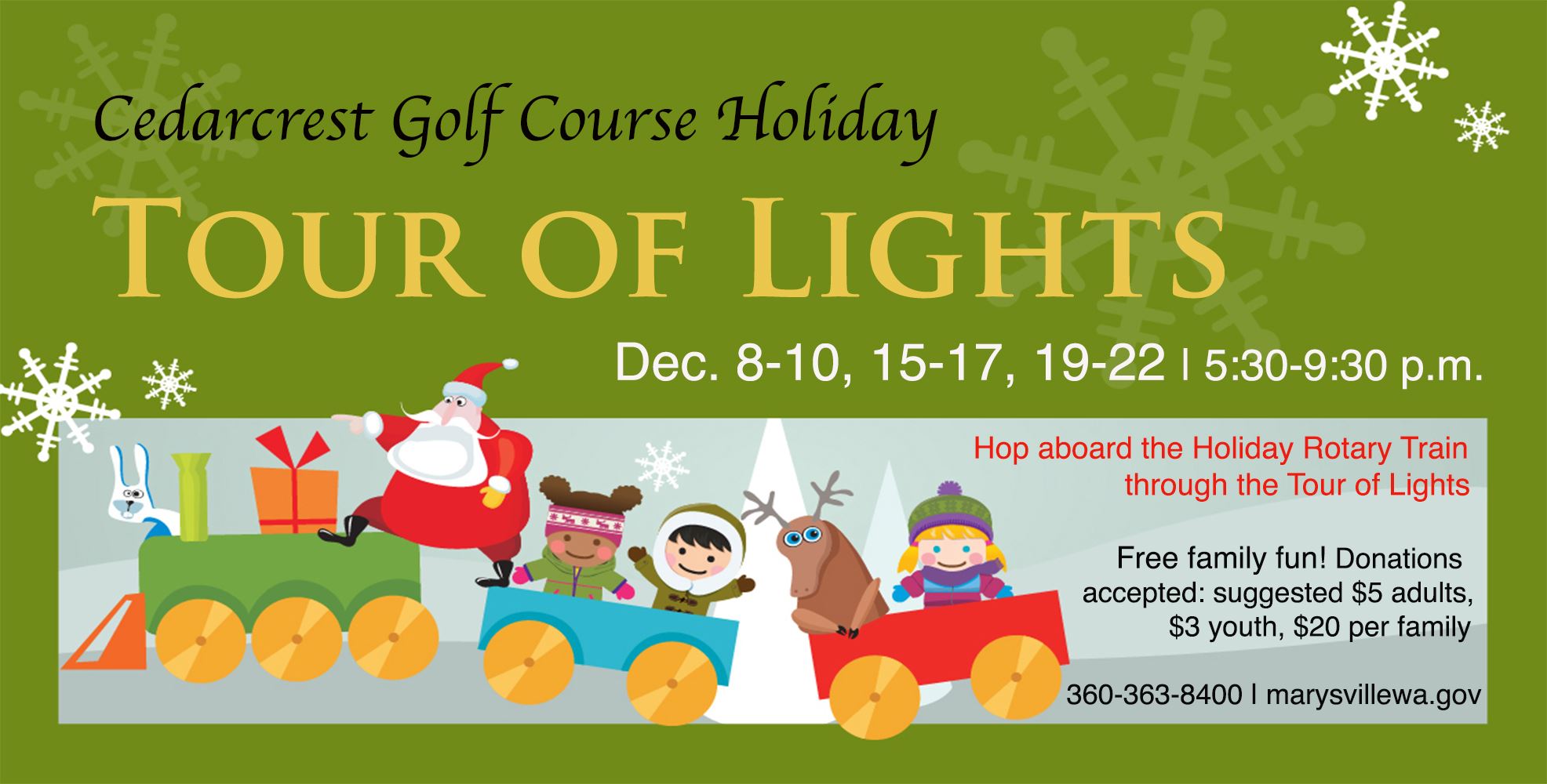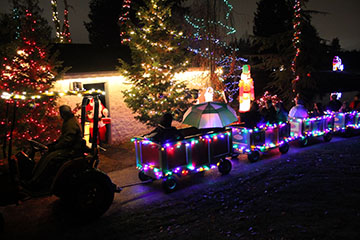 Cedarcrest Golf Course will become an after-dark winter wonderland when the fairways are transformed into a showcase of dazzling light displays celebrating the holiday season.

Holiday Tour of Lights is open from 5:30 - 9:30pm or until tickets sell out on these evenings: Dec. 8 - 10, 15 - 17 and 19 - 22. No prior registration. Space is first come, first served.

Board the Holiday Train for an enchanting 20-minute ride through the rolling hills passing through penguin village, polar bear forest and other festive holiday displays. Along the way, you may even catch a glimpse of Santa!

Then relax on the deck, sip hot cocoa, enjoy holiday music, roast marshmallows and enjoy a free s'more. Or make a night out of it with dinner at Bleacher's Grill, offering nightly specials throughout December.

Admission is free, with donations accepted. Suggested donation is $5 per adult, $3 per youth, $20 for the family. For more information, click here or call 360-363-8400.

Frequently Asked Questions:
What time do the Trains run?...5:30pm-9:30pm on the 10 Holiday Tour of Lights dates (8th,9th,10th,15th,16th,17th,19th,20th,21st & 22nd).
When do we give out Train tickets?...The Pro Shop Staff will start giving out tickets at 4:30pm for the train ride that day.
What is the cost for Train Ride?...The Train ride is Free. We do ACCEPT DONATIONS. Suggested Donations of $5 per Adult, $3 per Youth, or $20 per Family.
What is the cost for Smore's & Hot Cocoa?...This will come with your ticket to get on the train. This is Free, but donations accepted.
Does the Holiday Tour of Lights ever get cancelled?...We will only cancel due to snow, ice, heavy wind or heavy rain. If we cancel, the Cedarcrest Golf Course website as well as the Marysville website will update by 4:30pm or you can call the pro shop at 360-363-8460.
Are the trains covered incase of rain? The trains are not covered, please feel free to bring your own umbrella.
Is the waiting area to get on the train covered?..."Most" of the loading area is covered by a tent.
Can we book in advance?...We do not allow reservations in advance. First come, first served for tickets and waiting for trains.
Can we book reservations for dinner at Bleachers Grill before we get on the train?...Call Bleachers to setup your reservation 360-659-3388.
Built in 1927, Cedarcrest Golf Course is Snohomish County's most established public golf facility. Located two miles east of Interstate 5, Cedarcrest is a favorite for golfers of all skill levels. This picturesque 3-star course, redesigned by golf architect John Steidel, offers an unparalleled golfing experience - challenging play, natural beauty, meticulous greens and endless fun. An abundance of mature evergreen trees line the fairways, natural water features are plentiful and the addition of 52 sand bunkers installed in 2010 guard the small undulating greens. Measuring just under 6,000 yards with a par of 70, the course is not long by today's standards, but golfers must be on their game.

Join the Premier Club!

One Club, Thirteen Courses,
Lucky You!

Whether you are a Premier Golf Club member in Lynnwood, Bellevue, Seattle, Pierce County, Maple Valley, Everett or Marysville, your card will now be accepted at all 13 courses.

We've also updated our Online Tee Time Website to allow you to simultaneously search all Premier managed courses for the best tee time availabilities to fit your schedule and budget. There's never been a more convenient and valuable Puget Sound golf offering!

News & Events